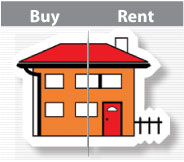 What is Shared Ownership?
Shared Ownership is where a person buys a share of a property and rents the rest of the property from a Housing Association.
Shared Ownership does not mean you have to share your home with other people, unless you want to.
Owning your home is very important for many people. It gives people a choice about where they live and the type of property they live in.

Please use the menu to the left or click the button below to continue to - Types of shared ownership